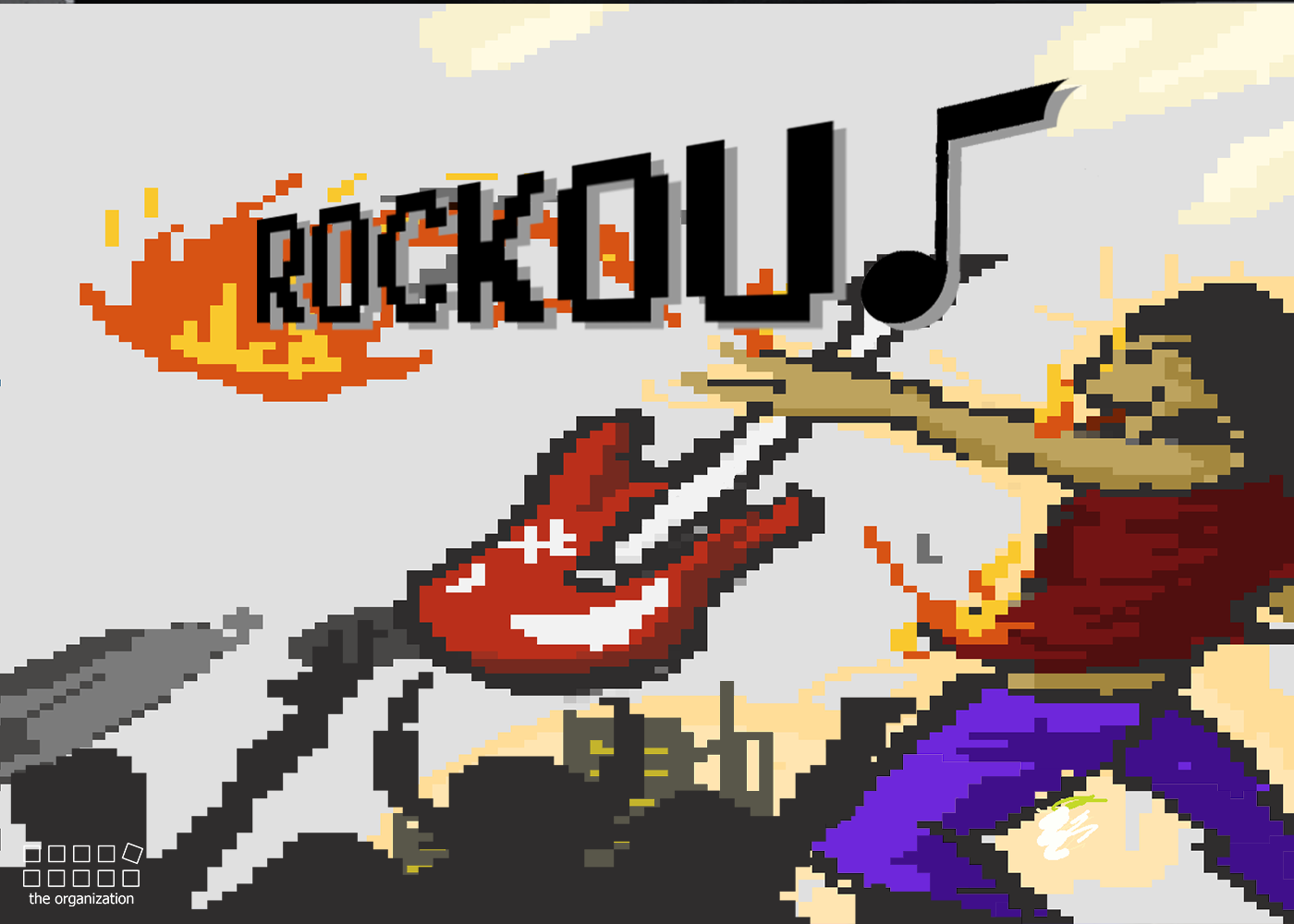 RockOut
ROCKOUT
This game was created in 48 hours during Global Game Jam 2017.
Rock Legend, Sid Soundwave, with his magical guitar, Axcalibur, is playing his farewell concert. Sid is wrapping up his encore performance of his hit song "Rock the Earth", when the high note penetrates deep into the nearby forest. The sound wakes up Wildwood, an evil spirit of the forest. In his rage, he unleashes the full fury of all 100 elementals in his army. Sid was about to take his final bow, now he must Rock Out.
Recommended to be played with Tobii EyeX Eye Tracking Controller and Wii Guitar Hero Instrument.
ROCKOUT
by
The Organization
Winter Park - FL, USA
Producer
Edson Correa
Programmers
Jeffrey Malesky
Kirill Zhdakh
Pablo Bernal
Artists
Thomas Castle
Edson Correa
Alex Heck
Juan Blanco
Marcus Shaw
Writers
Andrew Sorensen
Parker Ruggier
Designers
Wyatt Sniff
Eric Willins
Edson Correa
Juan Blanco
Parker Ruggier
Audio
Arianna Hawkins
Juan Blanco
Contact information:
| | |
| --- | --- |
| Name | Email |
| Alex Heck | alexjheck@gmail.com |
| Andrew Sorensen | pumaomega@gmail.com |
| Arianna Hawkins | arihawk@hotmail.com |
| Edson Correa | ecorrea@fullsail.edu |
| Eric Willins | kidwithbadaim@gmail.com |
| Jeffrey Malesky | jmalesky@fullsail.edu |
| Juan Blanco | iggyiniakiignacio98@gmail.com |
| Kirill Zhdakh | pentazoid231@gmail.com |
| Marcus Shaw | marcuslshaw@gmail.com |
| Pablo Bernal | pbernalalarcon@fullsail.edu |
| Parker Ruggier | parkerscripts@gmail.com |
| Thomas Castle | Thomas@TFCastle.com |
| Wyatt Sniff | wtsniff@fullsail.edu |
Install instructions
Installation Instructions:
Eye tracker - During the GGJ the device used was Tobii EyeX Eye Tracking Controller. Just follow the manufacturer`s instructions to install the equipment.
Bluetooth Wii Guitar - You need a computer that supports Bluetooth and a software named "glovepie" to be able to use the Wii guitar on one's PC. You will need to run "glovepie" and open the GuitarCode.txt file. Turn on Bluetooth on the computer then sync up the Wii remote with your PC by pressing the A and B keys on the Wii remote and pair the devices. Once remote is connected to the PC, in "glovepie" go to the troubleshooter drop down, and press "No Auto-Bluetooth Connect". Hit the "Run" button and check if any lights turn on the Wii remote. If not, then hit "Stop" and try to "Run" again. If no lights turn on after a few attempts, reconnect the remote. If lights turn on when hitting "Run", then either open up a notepad or click the the "Stop" button on the right and try to hold down the colored keys and strum to check if you get the following outputs - Green->Q, Red->W, Yellow->E, Blue->R, Orange->T. If you get these outputs, then you are ready to play!
Copy and paste this into notepad and save(GuitarCode.txt.):
//Main keys Key.Q = WiiGuitar.Green && (WiiGuitar.StrumUp || WiiGuitar.StrumDown) Key.W = WiiGuitar.Red && (WiiGuitar.StrumUp || WiiGuitar.StrumDown) Key.E = WiiGuitar.Yellow && (WiiGuitar.StrumUp || WiiGuitar.StrumDown) Key.R = WiiGuitar.Blue && (WiiGuitar.StrumUp || WiiGuitar.StrumDown) Key.T = WiiGuitar.Orange && (WiiGuitar.StrumUp || WiiGuitar.StrumDown) //Controlling mouse using joystick mouse.DirectInputX = mouse.DirectInputX + deadzone(WiiGuitar.JoyX)*1.5 + deadzone(WiiGuitar.JoyX)*abs(deadzone(WiiGuitar.JoyX))*39 mouse.DirectInputY = mouse.DirectInputY + deadzone(-WiiGuitar.JoyY)*1.5 + deadzone(-WiiGuitar.JoyY)*abs(deadzone(-WiiGuitar.JoyY))*39 //Plus and minus //Strum (Notes: LMB -> StrumDown, RMB -> StrumUp) mouse.LeftButton = WiiGuitar.StrumUp mouse.LeftButton = WiiGuitar.StrumDown